Montessori educators say that the world of the child is full of sights and sounds which first appear to be chaotic. From this chaos, children gradually create order and learn to distinguish among the impressions that assail their senses. Slowly but surely, they gain mastery of themselves and of their environment.
Diane Roberto
Directress of the morning 3- to 6-year-old class.
Diane acquired her B.A. from Manhattanville College, a Master of Arts from John Carroll University, and her AMS Primary Diploma from Fairleigh Dickinson University. "It is a joy and privilege to work with Horizon's children and their incredibly supportive families- every day brings new wonders!"
Elizabeth Hutton
Directress of the Toddler Class and the directress of the afternoon kindergarten room.
Elizabeth acquired a B.A. in Psychology from Kent State University, received a Master of Education from Xavier University, and earned her Early Childhood Credential from the American Montessori Society. "I really enjoy what great parents Horizon Montessori School has. I also love the size of the school- Horizon is like a large extended family which allows for a better student-parent-teacher relationship."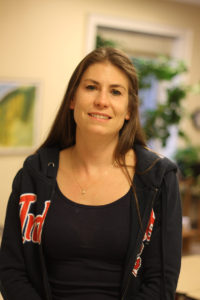 Melissa Guinn
Co-director of the Enrichment Class.
Melissa received her Associate's Degree from Lakeland Community College and her Early Childhood Credential from Walsh University. "I think of Montessori daily, granting myself the grace to grow as a teacher in unity with the other educators and families of Horizon."
Ionela Biolan
The Enrichment Class assistant for both the morning and afternoon sessions.
Ionela has an M.D. degree from the University of Medicine and Pharmacy, Bucharest, Romania, and has worked at various hospitals and medical centers in Bucharest.
"I consider Horizon Montessori the perfect place for the healthy and harmonious emotional, physical, and cognitive development of every child.  I am honored to be part of this wonderful community."
Janine Barwick
Morning office manager.
Janine graduated from Brigham Young University with a B.S. in Elementary Education and has spent the last several years providing child care in her home. "My favorite thing about Horizon is watching the children grow mentally, emotionally and socially.  I have noticed improvement in all of the children in the short time I have been here.  I also like how friendly everyone is.
Kim Bowman
Our afternoon office manager.
Kim earned her M.A. in English at the University of North Carolina, Greensboro.  While pursuing doctoral work at Purdue University, she taught composition there and also worked as program director for various social service agencies.
"Since joining Horizon's staff, I have come to appreciate the gentle approach used to inspire the children to fulfill their natural abilities, which in turn teaches them to learn."
Sam Rueckert
Assistant for the morning 3- to 6-year-old class.
Sam has a B.A. from Oberlin College with a major in Religion and a minor in Creative Writing. He has worked in the fields of music and camp counseling in states from California to Ohio.
"I am very impressed by the students and teachers I've had the chance to work with. Horizon gives each child the tools, space, and care they need to grow into themselves."
Victoria Giordano
Assistant for the morning 3- to 6-year-old class.
Tori has an M.A. in Education from John Carroll University. She has worked in education and at various humane society agencies. She has also worked at the Great Lakes Science Center.
"It's inspiring watching our young scholars conduct experiments, solve problems, and learn to navigate and excel in the greater world around them."
Amanda Cribley
Toddler Class Assistant.
Amanda has a B.A. from Kent State University in Cultural Anthropology. She has worked with elementary-aged children as well as adults with special needs; she has also worked in market research.
"The best part of teaching is watching the youngest children grow to become artists, story tellers, snack makers, and problem solvers. It is a joy to be part of each student's development."